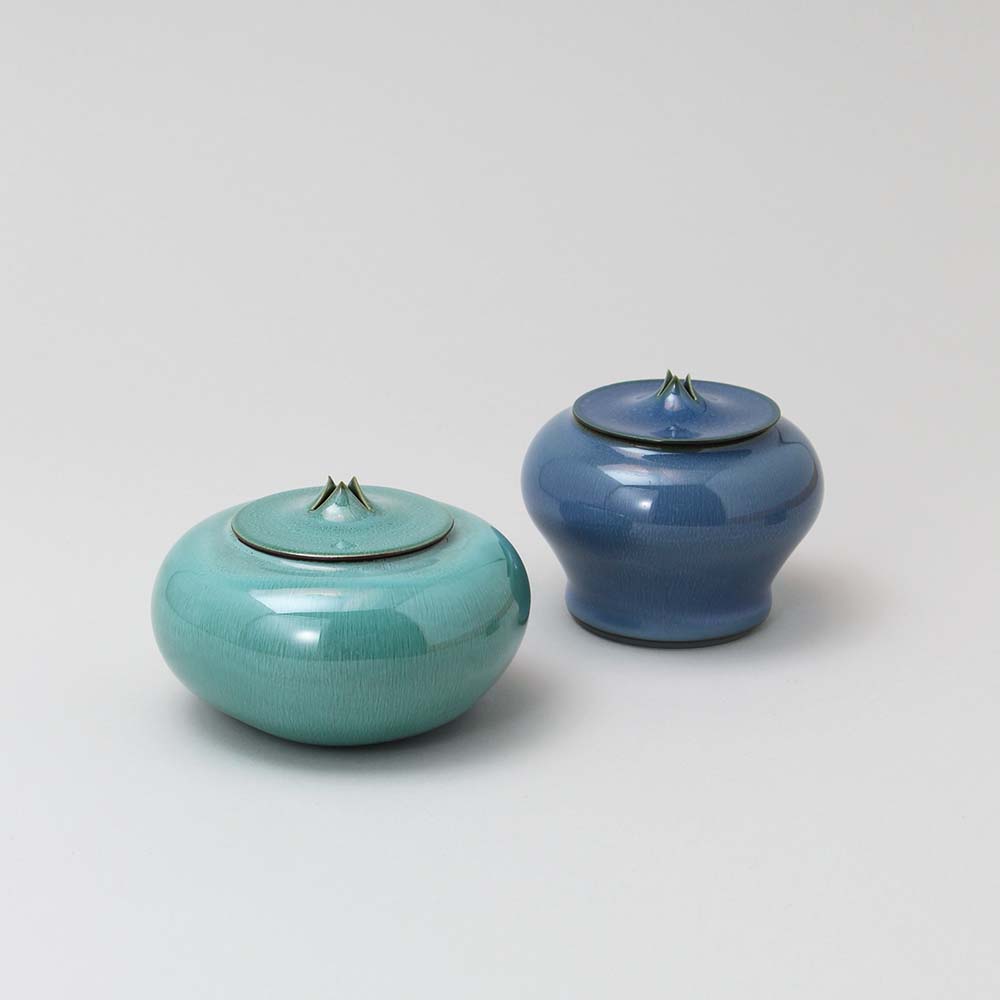 翆瓷香炉、藍瓷香炉
Lidded Container, Celadon, suiji-type, Lidded incense burner, Celadon, Ranji type
ARTIST INFORMATION
1950年、神奈川県大磯町に生まれる。中国陶磁に倣った作風で高い評価を得ていた祖父、初代川瀬竹春、父である二代川瀬竹春の下で18歳から本格的に陶芸の道を歩み始めた。家業である色絵や染付の仕事を担いながら19才の時初めて青磁の作品を発表。以来現在まで青磁を中心に作陶を続けている。1981年度に日本陶磁協会賞、2013年度には日本陶磁協会賞金賞を受賞している。古陶磁を熱心に研究し、一方では自然界に着想を得た自由な表現、また近年の作品にみる多様な釉薬の変化など、名実ともに現代を代表する陶芸作家の1人と言える。
Kawase Shinobu (b.1950)
Born in Oiso in Kanagawa Prefecture. Kawase Chikushun (1923-2007), his grandfather, was also an established potter famous for his work in the style of Chinese porcelain. Shinobu started his apprenticeship under his father, the second generation Chikushun when he was 18 years old. Working on overglaze enamel or underglaze blue porcelain in his family workshop,
he presented his celadon ware for the first time when he was only 19 years old. Since then
he has continued his mastery of celadon ware. In 1981 he won a Japan Ceramic Society Prize and in 2013 the Gold prize awarded from the same Society.
He is now regarded among the most outstanding potters working in the Chinese tradition of celadon. Not only he excels in his organic, flowing forms inspired by nature but also in a variation of glazing techniques explored in his recent work.